Traffic Update for : M7 Naas Newbridge Bypass Upgrade M7 Osberstown Interchange & R407 Sallins Bypass.



M7 Mainline between Junction 8 and Junction 11.


From 06.00 hrs Thursday 6th December 2018, M7 westbound traffic will commence movement onto the new carriageway surface adjacent to the new central median. The 1st stage will involve splitting the two traffic lanes on the westbound carriageway approx.. 2.5km after Junction 9 for 2.5km and rejoining well in advance of Junction 10. This will facilitate the completion of the new middle lane in this section. With both lanes to be fully moved over shortly following completion of the new middle lane. Once traffic has been moved across, works will continue to the adjacent verge/hard shoulder areas which will include for the tie in of new interchange slip lanes.

The Emergency Lane will be retained on both carriageways within the works areas as far as practicable.

Specific dates for future movements will be notified in advance as each section progresses.



Rathasker (Newhall Interchange):

From Wednesday 05th December 2018, traffic using the Rathasker Road between the M7 westbound on slip and the Bundle of Sticks roundabout will be moved onto the new Rathasker Link Road in a temporary arrangement.
This is to create the working space required to construct the new embankment to the R445 as part of the Newhall Interchange redevelopment.
A section of the road will continue to operate under a single lane shuttle scheme in order to fully complete the Link Road tie in.
Also works will continue to the new roundabout at the Rathasker end of the Link Road with side road traffic facilitated through a temporary junction."


Eastbound carriageway Junction 10 to Canal overbridge
* Speed restricted to 60kph thru the Work Site, which continues to be monitored by An Garda   Siochana.
* 2 lanes of traffic will be maintained in both directions during daytime hours.
* Traffic lane widths will be maintained restricted to 3m and 3.25m in width.
* There is no lay-bys or areas within the Work zones for stopping.


R445 Newbridge Road
In order to complete the new junction 10, currently under construction adjacent to the R445 Newbridge Rd, the works require the duel carriageway to be reduced to single lane for the foreseeable future.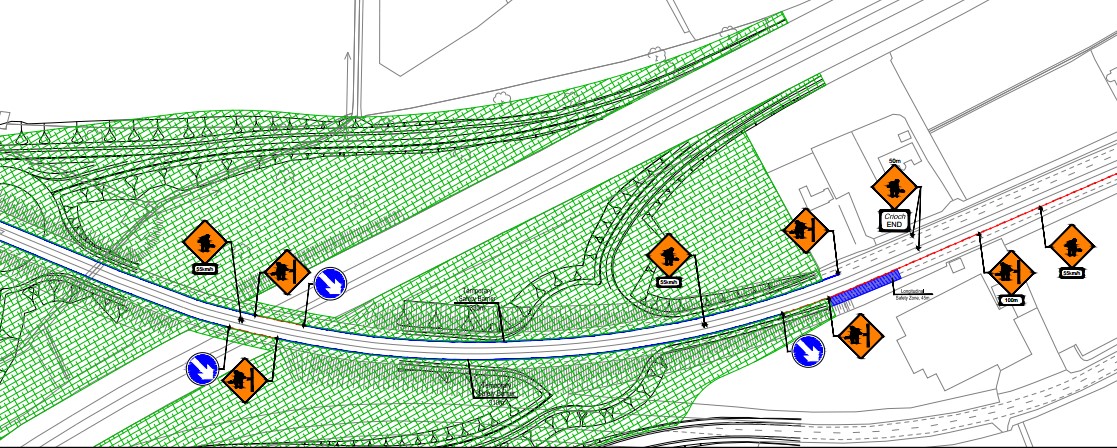 These works are schedule to be commence November 12th

Sallins : TRAFFIC ADVISORY - November 2018.
Please be advised, there will be increased truck movement/activity thru the village of Sallins over the coming months. This is due to the significant volume of Earthwork material required to be imported to complete the new works for the proposed Sallins Bypass. We wish to apologies for any inconvenience caused by this increased volume of traffic and advise that we are constantly monitoring with a view to mitigate against the impact of these works on the local community and ensure our works are carried out with Safety as our priority.