Traffic Update for : M7 Naas Newbridge Bypass Upgrade M7 Osberstown Interchange & R407 Sallins Bypass.




M7 Mainline between Junction 8 and Junction 11.


Works on the M7 mainline, between Junction 8 and Junction 11 have been progressing well over the summer period. At this time the Contractor is scheduled to commence the next phase of the Works, which requires the two current traffic lanes to be moved closer to the median, allowing access to the verges and further Works to progress.

Week commencing November 12th, between junction 10 and the canal over bridge on the eastbound carriageway, we will be shifting traffic lanes and running traffic on newly constructed carriageway, against the median barrier. Two lanes of traffic will be maintained at all times during day time hours.


Eastbound carriageway Junction 10 to Canal overbridge
* Speed restricted to 60kph thru the Work Site, which continues to be monitored by An Garda   Siochana.
* 2 lanes of traffic will be maintained in both directions during daytime hours.
* Traffic lane widths will be maintained restricted to 3m and 3.25m in width.
* There is no lay-bys or areas within the Work zones for stopping.


R445 Newbridge Road
In order to complete the new junction 10, currently under construction adjacent to the R445 Newbridge Rd, the works require the duel carriageway to be reduced to single lane for the foreseeable future.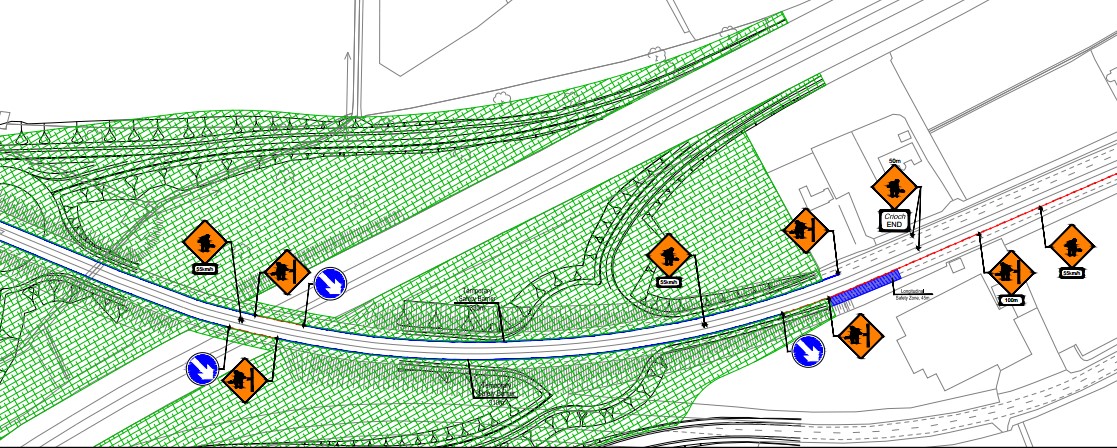 These works are schedule to be commence November 12th

Sallins : TRAFFIC ADVISORY - November 2018.
Please be advised, there will be increased truck movement/activity thru the village of Sallins over the coming months. This is due to the significant volume of Earthwork material required to be imported to complete the new works for the proposed Sallins Bypass. We wish to apologies for any inconvenience caused by this increased volume of traffic and advise that we are constantly monitoring with a view to mitigate against the impact of these works on the local community and ensure our works are carried out with Safety as our priority.